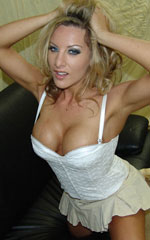 From Fans:
"Hi Rick, your site rocks!! beautiful girls all the time, you are my hero!!"
Josh - Texas, USA
"Hello, I've been a long time susbcriber and just wanted to write in to thank you for the best site ever! hot girls, good natural sex scene, no bs.. keep up the good work."
Peter - Australia

I have been involved in the swinger community for more than 6 years now and throughout all these years I have specialized in making slut fantasies cum true. I am known for setting up gangbangs, orgies, and sex parties and the double/triple penetration fantasies are one of the events I have set up in the past, so I figured I would get the site up to show the girls that we run into getting their pussies and assess filled up at the same time.
Like everything else I do, what I show here is what we really do in our lifestyle. So don't think of this site as a porn site, think of it as a lifestyle website as that's what DP Amateurs is about. And if you are a woman who wants to try a threesome with our without DP, on or off camera, please send me an email so we can talk about it and make your fantasy cum true. You can also send me email directly at swinger1 at gmail dot com.